Sweet delicious African sunset...
There are few things more beautiful than Accra from above at sunset.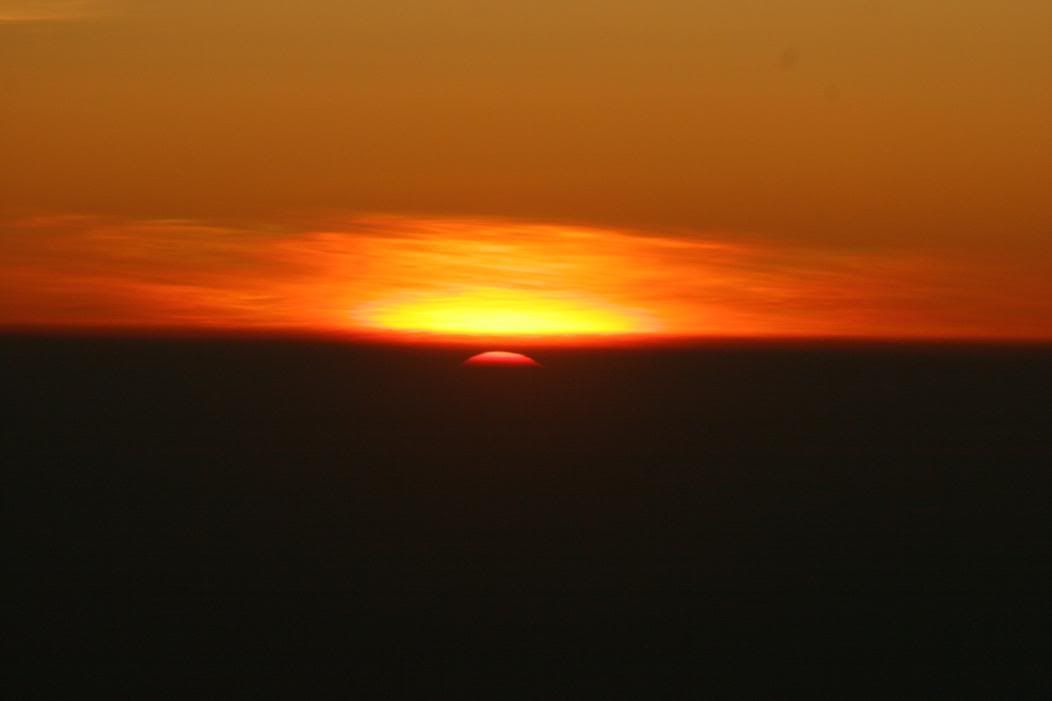 From the moment we stepped out of the back of the plane it was more than apparent that we were on a different continent. What I immediately assumed was hot steamy air from the jet's engines soon proved to be nothing more than typical evening air in Accra. After taking a ten second bus ride (no joke) to the airport terminal, we entered the customs lines. As was the case in Amsterdam, all the dignitaries just glanced at our Canadian passports and waved us through without asking any questions. When the 23 of us got outside we found 4 long term EWB volunteers waiting to help us get cabs to the hostel/hotel thing they found us.
I take a lot of things for granted, and from the moment we met the volunteers I found one of what is sure to be a long sequence. In trying to secure us cabs all four of the long term volunteers had to bargain/yell at the drivers for a good ten or twenty minutes before they finally got a decent rate (which was then upped from 40,000 to 45,000 cedis as we got in the car, but they were tired of fighting by then). The drive itself was crazy; the driver was calmly whipping around cars and pedestrians (despite having no working speedometer), honking at almost everything that moved. He was a very nice man who was working long into what should have been his retirement in order to ensure that his son and daughter can go to university in Accra.
I spent most of the drive staring open-mouthed at the window. Not a single thing in the city seemed familiar—cars, buildings, clothes, vendors, advertisements… everything was very obviously unique. After several minutes of silence in the back of the cab Kyle looks over at me and says: "Ever have those moments that you know you'll remember for the rest of your life?" To which I replied
"You mean like that comment?"
After checking into the hotel we went down to what they call "circle," which is a seemingly endless series of street vendors, stands and tro-tro stations. As we were told in training, we were always the centre of attention, to the point that most every car honked and people constantly came up to us to shake our hands and talk. The excessive pleasantries were nice, but put me ill-at-ease, as I sensed that many of them were looking for a chance to take advantage of us. A few kilometres later on, I was proved right when a lady overcharged me for my meal (11 000 for a 5000 meal…but I successfully told her off to get my money back). I was especially glad because Jon, who had ordered and paid before my and was seated when I ordered/paid, was actually overcharged even more than I was and never realized it until I told him about my adventures with the lady at the cash.
It's hard to articulate just how different everything is here, and how it feels overwhelmingly alien yet almost comfortable. From ordering food, to the smell of the air, to the greetings and interactions, everything is so markedly different from what I've known from now. And though I tried to visualize what everything could possibly be like here before coming, I am awestruck at how beautifully unique everything is; it is proving to truly be beyond my wildest dreams.
Man, that's three entries in three days. Don't expect this trend to continue though; we're bussing up north tomorrow, at which point electricity and internet will be a huge question mark. I'll try to update as much as possible after that—we'll see how it goes.
Take care,
Bryn